The Woodpecker® UPGRADE SERVICE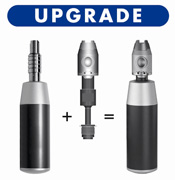 The Woodpecker Upgrade Service is available to customers who own a Woodpecker purchased before 2008.
What's new with the Upgrade:
Reengineered nosepiece for improved reliability
Push button control allows for easy insertion and removal of broaches/adapters
Broaches/adapters may be orientated in 90° increments to accommodate Surgeon preference or approach
Drive train is reengineered with fewer parts and unitized construction which contributes to improved stability and accuracy
The Upgrade Service includes:
Complete tear-down and re-build of the Woodpecker, ultrasonic cleaning, all o-rings are replaced, all moving parts are lubricated
Replacement of drive train
1-year manufacturer's warranty for the upgraded Woodpecker (Preventive Maintenance Program is also available)
Service loaner unit may be available upon reques
Sterilization tray will need to be modified to accommodate the new nose-piece.
Please note:
To thoroughly test the Woodpecker pneumatic broaching system, please send the Woodpecker and the hose assembly. Major part replacement or repairs to the Woodpecker, the hose assembly and other accessories are not covered under the Upgrade Service. Shipping & insurance costs are the responsibility of the customer.